Art Made Local
Are you looking for locally made art or handmade jewelry? Mathews Gallery is a must-see art gallery near the College Hill district in Wichita, Kansas. For over 35 years, Mathews Gallery has featured many art mediums such as sterling silver jewelry, fused, beveled, stained glass windows and sculptures, ceramic mugs, ceramic wall hangings, and much more. In addition, Mathews Gallery carries a variety of art supplies compatible for most 3D mediums and does minor jewelry repairs and custom jobs. Look for Mathews Gallery at National Juried Art Festivals throughout the United States.
COVID-19 UPDATE: We would like to thank all medical staff, first responders, and military for sacrificing so much for our safety. The gallery is closed to the public but still open for business. Please call or email us to pick up supplies, ask about repairs, or any other business concerns.
Sterling Silver Jewelry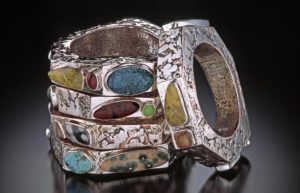 Tired of wearing unoriginal, mass-produced jewelry? All the jewelry at Mathews Gallery is locally made and handcrafted from 925 silver or sterling silver featuring turquoise and other semi precious stones. Mathews Gallery's wide variety of rings, earrings, necklaces are perfect gifts for your special someone. Swing by to see the variety of breathtaking statement jewelry and delicate accent jewelry. Custom jewelry is also available, call or email with inquiries.
Stained and Beveled Glass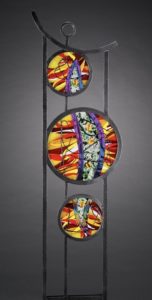 All glass products are locally made and handcrafted from COE 90 and 96 and stained glass. Mathews Gallery specializes in fused, stained, and beveled glass windows and panels. Mathews Gallery's stained glass art is perfect for adding color to yards, texturing living room spaces, or creating serene sunroom areas. Stop in to see the wide variety of yard art, windows, and garden accessories. Call or email for inquiries on custom glass windows and panels!
Glass Supplies
Are you new to stained glass or looking to support local businesses? Mathews Gallery offers a multitude of art supplies for glass projects. These art supplies include colored and textured glass sold by the sheet, stained glass including COE 90 and 96, beveled glass, solder, copper foil, lead came, and tools. The staff is incredibly knowledgeable, friendly, and available to help you get started on your next project.
Repairs
Contact or stop in to inquire about jewelry repair or stained glass repair. Mathews Gallery efficiently repairs glass breaks such as breaks in glass windows and panels and glass lamp shades. Mathews Gallery is also able to perform ring sizing, jewelry repair, and polish or clean most antique or heirloom pieces.